The following are some rules for safe surfing:
Remain anonymous. Don't give out personal info: name, birth date, address, city, school.
Go undercover. Create an alias.
Raise red flags. Alert an adult if inappropriate contact is made by someone in a chat room, on a bulletin board, or in e-mail.
Be nice. No flaming, spamming, or bullying allowed.
No pictures. Limit or prohibit the posting of photos on a personal Web page or online community.
No talking to strangers. Don't open e-mail from someone unknown.
From Good Kids, Bad Habits: The RealAge Guide to Raising Healthy Children by Jennifer Trachtenberg.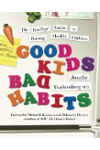 Continue Learning about Safety & Preparedness