Kids should be made aware of the following rules when swimming:
Never run near a swimming pool.
Never push others or jump on others around water.
Never swim alone.
Jump in water feet first rather than headfirst if water is shallow (5 to 6 feet or less).
If you believe you are in trouble, immediately call or wave for help.
Follow pool regulations and lifeguard directions.
From Good Kids, Bad Habits: The RealAge Guide to Raising Healthy Children by Jennifer Trachtenberg.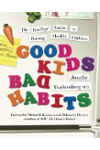 Continue Learning about Safety & Preparedness