Fate is fate. But that doesn't mean you should accept any accident as karma's way of paying you back for the time you shaved $33 off your taxes in 1994. You can prevent plenty of unintentional problems by intentionally preparing yourself.
ON THE SIDEWALK: If you're going to run or walk at night, it's worth the 12 bucks to spring for a reflective vest. And depending on where you live, the pepper spray.
IN THE HOME OFFICE: Not counting paper cuts and sadomasochistic stapling, most office accidents happen when people trip over electric cords or drawers left open. Stop looking at the memo you're delivering and keep your eyes up.
IN THE CLOSET: Wearing hard-soled shoes (for men) or high-heeled shoes (for women—and very confident men) can make you more prone to slipping on wet or slick tile, marble, or linoleum floors.
IN THE BEDROOM: The major causes of fire deaths in homes: leaving on a curling iron or heating blanket, dropping a cigarette, or leaving an electric heater too close to flammable material. Make it a habit: Switch it off and pull the plug. (Older homes, by the way, are especially susceptible to faulty electrical wiring, increasing the chance of a fire.)
IN THE KITCHEN: Of course, it's easy to get distracted by kids, cartoons, and doorbells, but an unattended stove or burner being left on accidentally is a leading cause of fire. While you're thinking of it, put all your matches in upper cabinets, not waist-level drawers. Children playing with matches is the leading cause of accidental death for children under two and the third leading cause of death and injury for those under 18.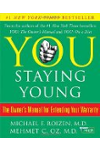 Accidents, such as falls, sports injuries, fires and car accidents, are a leading cause of death. In many cases, these can be prevented with common sense. Don't drive while intoxicated, distracted or tired and wear a seatbelt at all times. Install smoke detectors at home and plan an escape route in case of fire or other emergency. Take precautions when using ladders or working on the roof. Spend a little time planning for safety in all activities.
Continue Learning about Safety & Preparedness