Here are some ideas for helping Fido prepare for the family newbie:
Prep the Smell. Have a friend or partner bring something home with the baby's smell on it (like a receiving blanket) and give it to your pet before you return from the hospital.
Introduce the Stranger. Start carrying a baby doll around the house when you're pregnant; let the pup sniff it and gauge his reaction, so you know what kind of training and limits you need to set.
Do the Once-Over.Make sure your pet is up-to-date with all shots and health checks, and get him used to having his nails trimmed, since the only thing in house with newborns that ought to have long nails is the toolbox in the garage. As you gradually introduce your baby to your pet, reward your pet for good behavior around the baby (keep plenty of treats handy).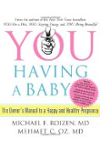 Continue Learning about Safety & Preparedness