The major safety concern with pork products is trichinosis, a parasitic disease caused by microscopic live worms called trichinae. These parasites live and reproduce in the intestines, and their larvae can migrate into the bloodstream and travel to the muscles, causing pain, fever, muscle deterioration, and even death. Human trichinosis infection after consuming pork products was once very common but today is relatively rare because of:
Legislation prohibiting the feeding of raw meat garbage to hogs.
Commercial and home freezing of pork (freezing at a temperature of - 10°F for several weeks will kill trichinae in pork).
Government standards, which require that cooked pork reach an internal temperature of 160°F (cooking to an internal temperature of 137°F kills trichinae).
Public awareness of the danger of eating raw or undercooked pork products.
Although U.S. consumers can trust that pork products produced by responsible meat processors are free of trichinae, it's still best to err on the safe side by adopting the following precautions:
Cook pork products until the juices run clear or until the internal temperature is 160°F.
Do not microwave uncooked or partially cooked pork. Microwaving is not an adequate method of cooking pork, since microwaving meat does not consistently kill infective worms.
Freeze pork less than 6 inches thick for 20 days at 5°F to kill any worms.
If you prepare your own ground meats, always be sure to clean the meat grinder thoroughly.
Trichinae are not found in Europe, allowing the production and consumption of prosciutto, an Italian delicacy of thinly sliced raw pork, which can now be imported into the United States. Some country-cured hams have been advertised as "American prosciutto," claiming that they can be eaten raw. To prevent possible infection with trichinae, avoid such products.
Pork is not considered a commonly allergenic food, although gallbladder attacks have been associated with pork allergy. Pork contains purines. Since purines can be broken down to form uric acid, individuals with gout should avoid or limit their intake of pork.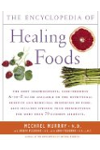 More About this Book
Encyclopedia of Healing Foods
From the bestselling authors of The Encyclopedia of Natural Medicine, the most comprehensive and practical guide available to the nutritional benefits and medicinal properties of virtually everything...
Continue Learning about Safety & Preparedness