On the road to adulthood, your child is bound to face many risks; showing him how to avoid avoidable dangers and prevent preventable injuries gives him a protective armor that he'll carry with him for years to come.
Identify -- Evaluate where your child's current safety habits stand and identify what precautions he needs to take.
Inform – Let him know the risks he faces.
Instruct -- Teach him to not to overlook, underestimate, or ignore dangerous situations. Train him to not be careless.
Instill -- Kids can have accidents anywhere, even while under your watchful eyes. But because kids seem to take more risks when you're not around, it's your job to make sure your child's safety practices are fully ingrained.
From Good Kids, Bad Habits: The RealAge Guide to Raising Healthy Children by Jennifer Trachtenberg.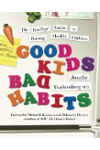 Continue Learning about Safety & Preparedness