Many kids today are attracted to the adrenaline rush of what are called "extreme" sports -- sports like skateboarding and inline skating have become increasingly popular over the last decade. You may have noticed skateboard parks popping up in and around your own community. These parks are growing increasingly complicated in design, with dramatic ramps and half pipes, as skating has evolved into a competitive sport.
Unfortunately, I've seen injuries from skating increase along with its popularity. Each year, more than 176,000 children ages 5 to 14 end up in emergency departments as a result of skating and scooter injuries. Here's the breakdown:
The most serious injury is head trauma , so a helmet is an absolute must.
One-third of skating injuries are to the wrist area; buy your child wrist guards.
Add elbow and kneepads to help kids avoid fractures and dislocations of the wrist and elbow by about 85 percent and knee injuries by 32 percent.
If your child does tricks or plays roller hockey, make sure he or she wears heavy-duty gear.
From Good Kids, Bad Habits: The RealAge Guide to Raising Healthy Children by Jennifer Trachtenberg.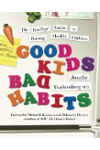 Continue Learning about Safety & Preparedness