Younger children have been known to climb into the driver's side of a car, pop the trunk with the lever, hop out of the car, then climb into the trunk. Some are curious, while others are simply looking for a clever place to hide during a game of tag or hide-and-seek. This can be fatal. Children have died in car trunks when the temperature climbs and they become asphyxiated or hyperthermic.
Even on a relatively cool day, the temperature inside a parked car can quickly spike to life-threatening levels if the sun is out. Vehicles heat up rapidly, with the majority of the temperature rise occurring within the first 15 to 30 minutes.
A study of the deaths of children locked in trunks showed that in most cases the children had been missing for more than an hour. In some cases, children have found the keys to the car and opened the trunk, or they have unlatched the trunk manually.
Take these simple steps to prevent this tragedy:
Hide'em -- Keep car keys where children cannot get to them.
Lock up -- Keep your car locked with the trunk closed, even when it's parked at home.
Keep watch -- Supervise your children closely.
Attach a latch -- If your car does not have an interior trunk-release mechanism, contact your car's dealer to get one retrofitted.
From Good Kids, Bad Habits: The RealAge Guide to Raising Healthy Children by Jennifer Trachtenberg.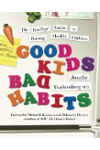 Continue Learning about Safety & Preparedness