To monitor your teen's Facebook account (and all other social media sites they join), set boundaries on the amount of usage, and most importantly, enforce the rules to which you both have agreed. One way to monitor your child's account is to set up your own Facebook account, learn all the ins and outs of how Facebook works, then "friend" them, and require they friend you back. The benefits to friending your teen are:
They will think twice before they post, because they know you're watching.
If you're logged into Facebook, you will be able to see what's happening on their profile when something is posted -- as opposed to logging in under their username at a later time.
You could be invited to become friends with their friends that know you.
No, you don't want to spy or invade their online world, but you do need to understand what's going on in their social networking environment.
Continue Learning about Safety & Preparedness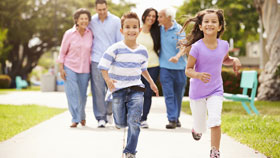 From learning how to keep household toxins away from your toddlers to feeding your family safe foods and ensuring your teens have the right sports equipment, it can be challenging to keep up with all the ways you need to keep your ...
family safe. Get tips on these and a host of other safety and preparedness issues from our experts.
More