You always need to keep safety in mind when it comes to kids in a tubful of water since the potential for injury is very real. I've seen way too many drownings and scaldings among young children. That's why someone responsible needs to always keep a close eye on all kids under the age of six while they bathe. This means actively watching them and staying within arms reach. Simply checking in on them every now and then won't suffice; children can drown quietly in just a few minutes. Don't assume your child will splash and yell for help if she gets into trouble.
Also, don't mistake a baby bath seat as a safety device. Babies can slip or climb out of bath seats and drown.
Scalding water also can cause serious injuries in children. Scalds and serious burns can require painful treatment and may result in scarring, physical and emotional disability, and years of skin graft surgeries. Luckily, nearly 75 percent of these injuries are preventable. When your child is young, be sure to position her well away from the faucet and regularly remind her that she is not allowed to touch the faucet handles. As she gets older, teach her how to control the hot and cold water, always running the cold water first and then adding hot water, and always turning off the hot water before the cold. You also can teach older children to test the bath water temperature by putting their elbow in first. If the water feels hot on their elbow, it could possibly burn them. Keeping the hot water-heater set between 120°F and 125°F, or 49°C to 52°C can help avoid serious scalding burns.
Also, soft, insulated covers are available to place over the bathtub faucet. These are a good safeguard against accidental burns or bumps.
From Good Kids, Bad Habits: The RealAge Guide to Raising Healthy Children by Jennifer Trachtenberg.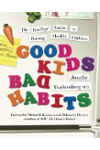 Continue Learning about Safety & Preparedness