With 90 percent of time spent indoors, there is a good chance that indoor air pollution impacts your health, for the worse. In fact, if the building in which you live, work or study in is a sick building, it could very well be making you sick too. And you probably don't even realize what is making you ill. A survey of 9,000 office workers in Europe found that 50 to 80 percent of them had symptoms typical of sick building syndrome. In the U.S. it is estimated that up to twenty-five million workers have building-related illness at any given time.
Continue Learning about Safety & Preparedness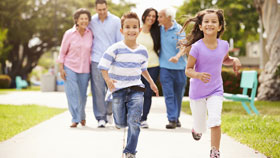 From learning how to keep household toxins away from your toddlers to feeding your family safe foods and ensuring your teens have the right sports equipment, it can be challenging to keep up with all the ways you need to keep your ...
family safe. Get tips on these and a host of other safety and preparedness issues from our experts.
More