Whether your child rides in a booster seat or is tall enough to ride without one, be sure that they always use the shoulder belt properly, not behind their back or under their arm.
Help older kids understand a little of the science behind how seat belts protect them. During a crash the safety belt will act to spread crash forces over a broad area of their body. By distributing these forces evenly to larger and stronger parts of the body such as the chest, hips, and shoulders, seat belts keep forces from absorbing any particular part of the body. A safety belt also allows a person to stop as the car is stopping, thereby enabling you to "ride-down" the crash.
And as always, kids tend to mimic the behavior of those around them -- and that means you -- so always set a good example by using seatbelts correctly yourself, and modeling safe driving practices.
From Good Kids, Bad Habits: The RealAge Guide to Raising Healthy Children by Jennifer Trachtenberg.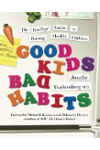 Continue Learning about Safety & Preparedness