Keeping your child safe when swimming in the ocean begins with good swimming abilities, which are key in preventing accidents. Most community and recreation centers offer swimming lessons, so it may be a good idea to take advantage of these to ensure that your kids -- and perhaps even you and your partner -- are able to safely navigate the waters.

Remember that swimming in currents and waves at the shore can be much harder than swimming in a pool, and conditions can change quickly. Even the strongest swimmer can run into problems when rip currents are present. It's a good idea to swim at a beach with lifeguards and to heed any warning flags or signs that they put up. Be sure your kids know not to swim past buoys or markers that indicate turbulent waters or other dangers.

Finally, kids and weak swimmers should use a Coast Guard-approved flotation device, such as a lifejacket. Don't rely on body boards, noodles or inner tubes to protect you or your children from drowning.

Whether in the ocean or at a lake or pool, be aware of recreational water illnesses. They can be spread by swallowing, breathing or coming into contact with contaminated water. Avoid swimming in the ocean for at least 24 hours after heavy rains, especially if you're in a densely populated area. Storm-water runoff from the streets and drainage areas may pollute the water.

You may want to check beach advisories before heading out. They may indicate that you should choose another day to enjoy fun in the sun.
One danger while swimming in the ocean is rip currents. These natural hazards are found where waves break on weaker parts of the ocean floor or near structures such as jetties. Waves hitting the beach are forced out to sea through the weak floor in sections that can vary from a few feet in width to the length of the beach. The rip currents carry people out past the breaking waves. Sometimes swimmers panic when they discover they are not strong enough to fight the current.
Teach your child what to do in case he gets caught in a rip current: Swim horizontally along the beach, and don't even try to swim straight back to the shore. If you grow tired, wave to signal that you are having trouble. When you do get back to shore, alert the lifeguard and other swimmers of the rip current.
From Good Kids, Bad Habits: The RealAge Guide to Raising Healthy Children by Jennifer Trachtenberg.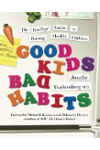 It is important that children learn to swim and are supervised at all times. Life jackets can be helpful for younger children or for children who don't swim well, but they also require direct supervision. It is also important that children stay in the more shallow water and do not swim out too far into the ocean.
Continue Learning about Safety & Preparedness