Falls are a common reason for trips to the Emergency Department (ED). If you have a second floor, keep those windows closed and locked or protect them with safety bars. If furniture can be climbed on, don't put it near a window. In homes with young kids, safety gates should be at the top and bottom of every flight of stairs.
Never, ever leave a baby on a bed or changing table, even if you have pillows around the infant. Babies are excellent rollers. You wouldn't believe how many babies are hurt in preventable accidents because well-meaning parents didn't think their babies could roll so far.

From The Smart Parent's Guide: Getting Your Kids Through Checkups, Illnesses, and Accidents by Jennifer Trachtenberg.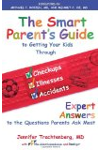 Continue Learning about Safety & Preparedness