One out of every 2.4 children will be seen in an emergency department this year. That means your chances of making that trip are high, even if you're the most super-careful parent. Kids are patients in about one-quarter of all emergency department visits. Think of it as a parenting rite of passage that includes a $200 copay.
Step one in being prepared for an emergency involves -- guess who? -- your pediatrician. If you haven't already done so, ask how your doctor prefers to deal with emergencies so you're prepared when the spaghetti hits the fan. The American College of Emergency Physicians says only one out of five families with kids discusses emergencies with their doctor -- which is probably a big reason why only one-third of parents say they feel prepared to handle a real emergency.

From The Smart Parent's Guide: Getting Your Kids Through Checkups, Illnesses, and Accidents by Jennifer Trachtenberg.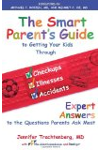 Continue Learning about Safety & Preparedness