Your child is more likely to wear a helmet if he likes the way it looks, so let him help pick one out. Head to the bike store and you'll find printed covers in a wide range of patterns that slip over the outside of helmets. I've even seen some that look like shark's fins and others that have dinosaur scales. My husband bought a multipurpose sports helmet and he wears it whenever he's out bicycling, rollerblading, ice skating, or skiing with our kids.
Of course, your child is much more likely to wear a helmet if you do, too. The stats prove it. One study found that 67 percent of children wore helmets when adult riders with them also were helmeted. But only 50 percent of kids wore helmets when they were with adults who weren't wearing them. Unfortunately, parents are not wearing helmets more than 60 percent of the time.
From Good Kids, Bad Habits: The RealAge Guide to Raising Healthy Children by Jennifer Trachtenberg.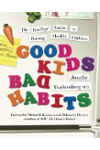 Continue Learning about Safety & Preparedness