A number of studies have been done on this topic, and the vast majority show no harm associated with swimming after eating. It was once believed that the digestive tract required a large amount of blood to assist with digestion, and that this would result in a shortage for muscle use, which is critical in swimming. But studies have shown that the redistribution of blood is minimal and does not have profound effects on muscle use. The most important safety measure for children who swim is to provide constant supervision by someone who is competent in the water.
No. This myth has been around since I was a little girl and probably got started centuries before that. The old saw says that a child who has just eaten can get severe stomach or muscle cramps while swimming and drown. It is not impossible, strictly speaking; the process of digestion diverts some blood from the rest of the body, which could theoretically increase the risk of muscle cramping. But there's not a single documented episode of drowning due to swimming on a full stomach in the history of medicine. The American Academy of Pediatrics doesn't recommend any waiting period between eating and swimming. Neither does the American Red Cross. And neither do I.
Now, I don't think I'd want to swim the English Channel after eating Thanksgiving dinner. But I see no reason to stop my youngest child from jumping in the ocean after having a peanut butter sandwich—to the occasional horror of other parents.
I wish we could change the adage from "Wait thirty minutes after eating before swimming" to "Keep two eyes on your children every second they're in the water." That would save many more lives.
From The Smart Parent's Guide: Getting Your Kids Through Checkups, Illnesses, and Accidents by Jennifer Trachtenberg.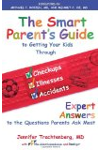 You do not need to make your child wait 30 minutes after eating before swimming. The most harm that can befall someone who swims after eating is a minor stomach cramp. None of the myths about the digestive system using more blood during digestion and not providing enough blood to the muscles in the arms and legs have any scientific backing. Your muscles will still work to keep you afloat even if your stomach is digesting lunch. (This answer provided for NATA by the Marist College Athletic Training Education Program)
Continue Learning about Safety & Preparedness