The backseat is the safest place for a child of any age to ride, whether the vehicle is equipped with airbags or not. According to recent studies, the lives of thousands of children have been saved solely because they were sitting in the backseat.
The front seat is alluring, I know. Kids like to sit in the front of the car because they can see better out of the front window and they have easier access to you. But no matter the list of reasons or excuses they give, children (especially those under the age of 12) should always ride in the back seat. Statistics show that this can help avoid neck or spine injury in the event of a sudden stop or crash.
From Good Kids, Bad Habits: The RealAge Guide to Raising Healthy Children by Jennifer Trachtenberg.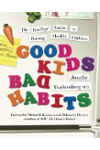 Continue Learning about Safety & Preparedness