Finishing a marathon will earn you many things: a medal, increased cardiovascular stamina, and blisters the size of Australia. While I respect marathoners and admire their passion, dedication, and athleticism, I can't endorse the training it takes to complete one.

The constant pounding your joints take with every step increases the likelihood that you'll suffer from joint problems and osteoarthritis down the road. And once your run exceeds more than 18 to 20 miles, you are likely to be consuming your own muscle proteins to provide energy.

Sure, I'd love to see you cross the finish line, but I'd also like to see you finish the race of life in the best-and youngest-shape possible. To live long and young, you need to be physically active. But too much activity can actually put the accelerator on aging, instead of the brakes.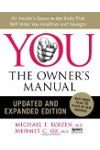 Continue Learning about Running