Bounding exercises are designed to improve speed and running form. Essentially bounding is running with an exaggeration of the normal stride by making them longer than a normal stride. Bounding improves stride length and stride frequency. Bounding can be performed at various distances depending on your physical ability. Most professionals recommend bounding be done for as little as 10 yards but not more than 200 yards.
Bounding is just what it sounds like. You spring up into the air with each step you take. It looks like you are jogging with high knees in slow motion.


1. On a springy surface such as a rubber track or grass field, jog with short springy steps while landing on the mid-foot area, not on your toes.

2. Spring upward once after each impact. This warms up your ankles and legs by making them act like coiled springs. You move forward and upward with each step.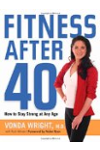 More About this Book
Fitness After 40: How to Stay Strong at Any Age
It's one of the undeniable facts of life. After we reach a certain age, our bodies change. No matter how fit we may have been at 20, we're very different people after 40. But growing older doesn't...
Continue Learning about Running