The major focus in dietary therapy for rheumatoid arthritis (RA) is to eliminate food allergies, increase the intake of antioxidant nutrients, follow a vegetarian diet, and alter the intake of dietary fats and oils. The first step is a therapeutic fast or an elimination diet, followed by careful reintroduction of foods to detect allergens. Virtually any food can aggravate RA, but the most common offenders are wheat, corn, milk and other dairy products, beef, nightshade-family foods (tomatoes, potatoes, eggplants, peppers, and tobacco), and coffee. After isolating and eliminating all allergens, a diet rich in whole foods, vegetables, and fiber and low in sugar, meat, refined carbohydrates, and animal fats is recommended.

The importance of a diet rich in fresh fruits and vegetables in the dietary treatment of RA cannot be overstated. These foods, including vitamin C, beta-carotene, vitamin E, and selenium, are the best sources of dietary antioxidants. Excellent sources of antioxidants include flavonoid-rich berries, such as cherries, cranberries, hawthorn berries, blueberries, blackberries, raspberries, and strawberries. Carotenoids are beneficial antioxidants found in yellow and green vegetables, including squashes, yams, carrots, and the cabbage-family vegetables.

Vegetarian diets are often beneficial in the treatment of inflammatory conditions such as RA, presumably as a result of decreasing the availability of arachidonic acid for conversion to inflammatory prostaglandins and leukotrienes. Another important way of decreasing the inflammatory response is the consumption of cold-water fish, such as mackerel, halibut, herring, sardines, and salmon. These fish are rich sources of the long-chain omega-3 fatty acids. In addition, supplementing the diet with 1.8 to 3 grams of omega-3 fatty acids from a pharmaceutical-grade fish oil product is recommended. Fish oils and olive oil, which acts as a neutral fat in the diet, should replace other dietary fats, such as saturated fats, animal fats, and omega-6 polyunsaturated fats, all of which promote the inflammatory process.

During flare-ups, fresh pineapple juice along with some fresh ginger or turmeric root may help to relieve symptoms of RA due to their anti-inflammatory activity. Ginger possesses anti-inflammatory action by inhibiting the manufacture of inflammatory compounds and by the presence of an anti-inflammatory enzyme similar to bromelain, which is found in pineapple.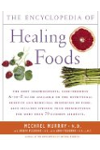 More About this Book
Encyclopedia of Healing Foods
From the bestselling authors of The Encyclopedia of Natural Medicine, the most comprehensive and practical guide available to the nutritional benefits and medicinal properties of virtually everything...
Continue Learning about Rheumatoid Arthritis