At this time, there is no cure for rheumatoid arthritis. Available treatments are designed to slow down any future damage to the joints and to alleviate pain. Treating rheumatoid arthritis can mean rest, gentle exercise, medications, occupational therapy, and/or surgery. There are also many medications that may be used to alleviate symptoms, but one type of drug called DMARDs (disease-modifying antirheumatic drugs) can actually help slow the impact of the disease on the joints. Surgery options for rheumatoid arthritis include joint replacement and repair procedures.
Treatment options for rheumatoid arthritis:
apply moist heat twice daily to affected areas
do hand, wrist, elbow, shoulder, knee, ankle, and foot exercises; also, talk to your doctor or a physical therapist for recommended exercises
stay on a plant-based diet
avoid foods that might trigger inflammation
find sleep strategies that will increase quality and quantity of sleep
take prescribed medications and see your doctor regularly for follow-up visits to assess your arthritis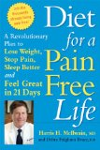 More About this Book
Diet for a Pain-Free Life: A Revolutionary Plan to Lose Weight, Stop Pain, Sleep Better and Feel Great in 21 Days, ADA...sound nutritional advice...do-able, delicious..a godsend to pain sufferers.
Do you wake up each morning aching with joint or muscle pain? Have you been trying to lose stubborn belly fat for years? Do you wish you could be active without pain medications? Look no further: Diet for a Pain-Free Life is the simple-to-follow, doctor-designed solution to improve your health. Leading rheumatologist, Dr. Harris McIlwain shares his revolutionary prescriptions in this first proven lifestyle plan that will help you drop pounds and decrease pain at the same time. Losing just 10 pounds can reduce chronic pain by as much as 90 percent. Learn the secrets of how to: Eat Well and Lose Weight with the Pain-Free Diet—even if you've never been able to succeed on a diet before Exercise Your Pain Away—even if you dislike traditional exercise, or if your pain makes movement difficult Stop the Stress-Pain Connection—even if you're overworked and easily stressed Improve the Quality of Your Sleep—even if you suffer from insomnia or other sleep conditions Those who have followed Dr. McIlwain's program have been able to resume the activities they love and transform their lives in as few as 21 days—now you can too.
For the most part, treating rheumatoid arthritis means relieving symptoms and slowing the disease's progress. Although there is no cure, you and your health care professional can develop strategies for managing the disease. You'll probably use a variety of approaches, but all have the same basic goals: relieve pain, reduce inflammation, slow (or even stop) joint damage and improve your ability to function.
In addition to the guidance of your primary health care professional, you may need care from a physical therapist, a rheumatologist (a physician who specializes in diagnosing and treating disorders that affect the joints, muscles, tendons, ligaments and bones) or an orthopedist.
When symptoms occur, you can take steps to lessen their severity. Protecting your joints from undue stress can help. You may find that using a splint around a painful joint (generally wrists and hands) helps reduce pain and swelling. The splint supports the joint and lets it rest. Your health care professional can help you obtain a properly fitting splint. You may want to talk to him or her about self-help devices that can reduce stress on the joints while you participate in everyday activities. Zipper pullers, long-handled shoehorns and products that help you get on and off chairs, toilet seats and beds can all ease the strain on your joints.
Most likely, your treatment plan will include medications to relieve pain and/or reduce inflammation. Although there is no cure, disease-modifying antirheumatic drugs (DMARDs) may slow or stop the course of the disease. In addition to DMARDS, the following are commonly used rheumatoid arthritis medications: analgesics, nonsteroidal anti-inflammatory drugs (NSAIDs), corticosteroids and biologic response modifiers. You and your doctor should work together to select the right treatment approach. Remember that rheumatologists are trained to evaluate pain associated with RA and need to know how you are feeling in order to best manage your RA.
Surgery may be an option if you have severe joint damage. In the right circumstance, it can help reduce pain, improve the affected joint's function and appearance and enhance your ability to perform daily activities. However, surgery is not right for everyone, and you and your health care professional need to discuss the best approach.
Rheumatoid arthritis used to be treated primarily with NSAIDs, sometimes together with corticosteroids. Mild DMARDs were used sparingly—only after joints became deformed—and the use of stronger DMARDs was considered only after several years of treatment, by which time disabling damage was often well under way.

That all changed in the 1990s, when studies using x-ray images showed that joint damage often begins in the first few months of rheumatoid arthritis. Treatment guidelines were updated, and rheumatologists started using powerful DMARDs early on in the disease to slow or stop its progression before damage occurred.
Some doctors, however, remain cautious about using such potent drugs and may be reluctant to include them in a treatment plan. If you're not sure about the treatment your doctor suggests, get a second opinion.
Intensive treatment of rheumatoid arthritis (RA) requires frequent monitoring to check on how well the treatment is working. Your rheumatologist may want to see you as often as once a month, or every 2 to 3 months, depending on the stage of your disease and the medications you're taking. To monitor the treatment of rheumatoid arthritis, a combination of subjective and objective measures is used to calculate a disease activity score.
If your treatment plan isn't moving you toward your remission number, your rheumatologist will likely adjust your therapy, which may involve increasing dosages, adding a drug, or switching to a different medication. This process is called treating toward a target, intensive therapy, or aggressive therapy, and it is the most effective way to treat rheumatoid arthritis.
As a spine surgeon, I occasionally see spine related manifestations of Rheumatoid Arthritis. I can clearly state that the surgical treatment for RA of the spine is individualized to the patient's condition, degree of severity, age, symptoms, etc. There is no cookie cutter type of approach. Similarly, I am certain that Rheumatologists tailor their medical treatment to their respective patients.
Rheumatoid arthritis (RA) is typically treated with DMARDS, medicines that can slow the progression of the disease and reverse some existing joint damage. Watch rheumatologist Natalie Azar, MD, discuss the options available for the treatment of RA.
Continue Learning about Rheumatoid Arthritis (RA) Treatment