The term retinoid includes both naturally occurring and synthetic products that classically were related to vitamin A (retinol). However, the newer classification describes retinoids as products that elicit specific responses by acting at specific sites called retinoid receptors. There are several different retinoid receptors in the skin. Before topical tretinoin became available in 1971, no other form of acne therapy was available that showed improvement in comedones. As a result, topical tretinoin revolutionized acne therapy. The limiting factor of tretinoin was that in the original formulations it was very irritating to the skin. Since then, our understanding of how tretinoins work has grown, and many new formulations have been developed that minimize irritation while maintaining efficacy. Even now, topical retinoids produce the greatest impact in the improvement of acne. We are also continuing to learn about the effects of retinoids on different types of acne as well as on aging skin every year. It has also been shown that tretinoin works for both comedonal and inflammatory types of acne. For these reasons, tretinoin and tretinoin-like medications have become the mainstay of most acne therapies, effective when used either alone or in combination with other topical or oral treatments. Some of these preparations are less irritating than others, with studies showing that adapalene (Differin) is the least irritating of the group.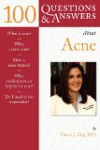 More About this Book
100 Questions & Answers About Acne
100 Questions and Answers About Acne provides you with all the information you need to manage your complexion problems. Written by Dr. Doris J. Day, a world-class expert in the field, this clearly...
Continue Learning about Retinoids