There are questions about using topical retinoids during pregnancy. There are natural levels of isotretinoin and retinoic acid in the blood even in people who have never been exposed to topical retinoids. If you put Retin-A on the skin, the blood level of retinoic acid does not change. Your body eliminates more retinoic acid, but the blood level stays the same. I still believe that the smartest course is not to use retinoids during pregnancy because even the theoretical risk of a problem is not worth it, however, generally, most dermatologists agree that it is okay to stop using the retinoid once you think you may be pregnant.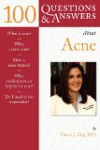 More About this Book
100 Questions & Answers About Acne
100 Questions and Answers About Acne provides you with all the information you need to manage your complexion problems. Written by Dr. Doris J. Day, a world-class expert in the field, this clearly...
Continue Learning about Retinoids