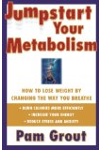 Many companies have sprung up in the last few years offering oxygen "pills." A quick scan of the Internet will show hundreds of companies that sell allotropic oxygen. Believers claim the following benefits:
Boosts energy levels
Strengthens the immune system
Heightens concentration and alertness
Calms the nervous system
Kills infectious bacteria
Enhances the uptake of vitamins, minerals, amino acids, and other essential nutrients
Eliminates built-up toxins and poisons in the cells, tissues, and bloodstream
While I can't dispute the pills' claims, I can't imagine why people don't just learn to breathe properly and save themselves the expense. Oxygen is free and always available.