Believe it or not, cockroaches are a major cause of allergies. Many substances on cockroaches can trigger respiratory allergy symptoms if they're inhaled. Cockroach allergies are especially bad in urban environments or in other situations that cause people to spend a lot of time indoors, since this increases exposure to the so-called "cockroach allergens." Talk to your doctor if you suspect cockroaches may be to blame for your respiratory allergies.
Cockroaches are a serious trigger for asthma, which is one of the reasons that the urban poor have so much asthma, along with mice, cigarette smoke and high levels of diesel particulates.
Cockroach removal presents a problem that is often very difficult to solve, especially in inner-city, multifamily dwellings. Roach infestation from the rest of the house must be halted in order to remove a constant source of new allergen. The most important measure is to remove all sources of food and water that sustain roach populations. Food should be kept in tightly sealed glass jars or plastic tubs, or kept in the refrigerator. Dishes should be washed immediately after use and not left in the sink. Pet food should be left out only for short periods of time, and kitty litter should be changed every few days. Washing all surfaces with soap daily, vacuuming under furniture, and removing clutter will help. All holes and cracks should be sealed and caulked and any leaky plumbing should be repaired. Trash must be emptied daily and garbage cans should have lids and plastic bag inserts that tie on top.

The use of safe insecticides is essential for eliminating roaches. Gel baits or bait stations are the safest and most effective method of treating asthmatic homes. It is important to place these not only in the kitchen but also in the bedroom, out of the reach of children and pets. Baits must be changed every three months to remain effective and other insecticides should not be used at the same time. Insect sprays or pesticide bombs, which can exacerbate asthma, should be avoided.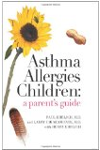 More About this Book
Asthma Allergies Children: A Parent's Guide
Asthma and allergies are at epidemic proportions. It doesn't have to be that way. Two experienced pediatric allergists tell everything a conscientious parent needs to know about these conditions,...
Continue Learning about Respiratory Allergies