People often report that they are allergic to other pets but not to their own. They may not have acute symptoms when they are around their pets, so they mistakenly assume that their pets are not the cause of their asthma. In fact, they are very likely suffering from chronic inflammation at a level they are accustomed to, but it can be pushed over the threshold into an attack outside the home. This may be because they have come into contact with someone else's pet, but the real culprit may also be some unseen environmental element, such as mold or high levels of dust.
These same patients often find that their asthma worsens when they return after an extended period of time away from home, on a vacation, say, or off at college. This suggests that they were always allergic to their pet but had become tolerant of the symptoms. When a patient left home and experienced less chronic inflammation, re-exposure to little Mittens sparked a reaction.
The size and behavior of an animal and grooming habits of the owner affect the quantity of allergen it will produce. Large dogs such as German shepherds can give off as much as a hundred times more allergen than small ones, such as Chihuahuas. Pets that go everywhere in a home and onto the furniture cause more allergy than those that stay outside or are kept in one room. Pet owners who allow their pets into the bedroom, especially onto the bed, are at the greatest risk for developing severe asthma. Frequent pet baths can considerably reduce the quantity of allergen.
All other mammals, such as rodents, rabbits and farm animals, shed dander and can trigger asthma. As with cats and dogs, size and behavior determine how much of a problem they present.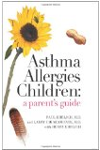 More About this Book
Asthma Allergies Children: A Parent's Guide
Asthma and allergies are at epidemic proportions. It doesn't have to be that way. Two experienced pediatric allergists tell everything a conscientious parent needs to know about these conditions,...
Continue Learning about Respiratory Allergies