Allergists and meteorologists can help you stay on top of your pollen allergies because they are continually assessing and reporting the amount of pollen floating in the atmosphere. During pollen season, these experts take what are called pollen counts on a daily basis. These counts measure the number of pollen grains found in one cubic meter of air during a 24-hour span. Pollen is collected using a plastic rod or similar object that is coated in a greasy, sticky substance. The rod rotates or spins continuously, collecting pollen specimens, which are then examined under microscope and counted. Local wind currents, humidity, and rainfall sometimes negatively impact the accuracy of such readings.
Many newspapers list local pollen counts somewhere on the weather page, and some television and radio newscasts announce pollen counts during the weather report. Keep in mind that the pollen count that you heard about on the news is about 24 to 48 hours old. That can be significant since counts can change quickly depending on weather conditions. Pollen counts are worse on windy, clear days, and they tend to improve on rainy days or after the initial light frost. Make note of weather conditions the day prior (when pollen counts were taken) before drawing conclusions about present-day pollen conditions.
A quick check on your computer or smartphone can tell you what the pollen count is—and even help you plan for the next few days, says allergy and immunology specialist Dr. Clifford Bassett. Learn where to click by watching the video.
Continue Learning about Respiratory Allergies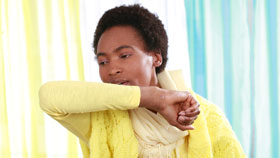 Dust, mold and pet dander are common triggers for allergies that affect the respiratory system, causing coughing, sneezing, congestion, sinus pressure and difficulty breathing. A cleaning routine that involves bleach and regularly ...
vacuuming carpets and furniture and washing bedding can reduce these irritants. If your symptoms are hard to control, or if the substance that bothers you can't be avoided, antihistamines or allergy shots might be needed.
More