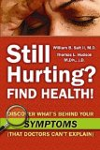 Breathing is a key element in eliciting the "relaxation response" described by Dr. Herbert Benson. The relaxation response is a counterbalancing mechanism to the stress response. It is not only helpful whenever used, but it can also have lasting beneficial effects when practiced regularly.
Here's what's involved:
repetition of a word, sound, phrase, prayer, or muscular activity
passive disregard of everyday thoughts that inevitably come to mind by your returning to the rhythm of repetition
Your breathing should be slow and natural while you silently say the focus
word, sound, phrase, or prayer to yourself during exhalation.