This method of "cuing" yourself to calm down and relax is easy to perform and can be done anywhere. Because the brain only needs a few reminders to calm down, autogenics teaches you to concentrate on raising the temperature of your hands and feet. Proponents claim that autogenics will give your heart a break from pumping so hard, open blood vessels, reduce breathing rate and pulse, and lower blood pressure.
With autogenics, you sit quietly, and put your left hand in your lap, palm up. Lay your right palm on top of it, and clasp your fingers together. Concentrating on the feeling in your hands, "mindfully" work to raise the temperature of your hands for 10 minutes, then do the same with your feet. Counselors claim, if this is done correctly, you will feel "the heat" rise in your hands and feet.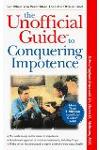 More About this Book
Unofficial Guide to Impotence
The Unofficial Guide to Conquering Impotence delivers the inside scoop on impotence: the truth about Viagra, what treatments really work, and how lifestyle changes can aid in conquering...
Continue Learning about Relaxation Therapy