So maybe you're not a writer, a blogger, or someone who keeps a journal. We're not asking you to be any of those, but you'd be surprised by what just three to five minutes writing in a journal at the end or start of your day, can do. Use it to evaluate how you feel and what you're thinking at a subconscious level and watch what it does to your sense of well-being, peace of mind, and even your capacity to dream big, set realistic goals for the future, and realize optimal energy. So few of us take the time anymore during our days serving and caring for others to turn the volume down on everyone and everything else and just think in our own creative space and quietude.

Self-care begins with self-discovery. And committing your thoughts and ideas to paper can make a huge difference. It affords you a record from which to look back in the future and simultaneously offers accountability. It also gives us a chance to adjust our attitudes if need be and set a new course that moves us closer to where we want to be. Find a comfortable spot (or just do this exercise while sitting in bed) and consider playing some relaxing music.

You may find it helpful to keep more than one journal. Have one that you use to write down the more mundane tasks you need to get gone, such as picking up clothes from the cleaners, grocery shopping, or organizing a birthday party. Have another that keeps track of your diet choices and physical activities. Yet another journal, a so-called worry journal, can be very handy for people who have a hard time getting to sleep at night as stressful thoughts intrude and steal much needed sleep time. A worry journal by your bedside can act as a mental depository of your anxieties. Once you write them down, you close the book and tell yourself that you will deal with them tomorrow. Sometimes you'll find that the act of writing down a worry will lead to solutions that you never thought of before. And all of these exercises will subconsciously give you hope for your future.

Last but certainly not least, keep a positive-note journal that tracks all the good things you've accomplished. At the end of even the most stressful days, stop to reflect on what went right. What are you grateful for? What good things came out of the day, even if they were unplanned or unexpected? Sometimes, on the worst of days, we can just be thankful that we got through it, and soon we can embrace a whole new day with happy, promising thoughts and intentions.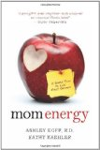 More About this Book
Mom Energy: A Simple Plan to Live Fully Charged
       From celebrated dietitian Ashley Koff and fitness trainer to the stars Kathy Kaehler comes Mom Energy, an exciting new way for moms to tap into their own natural and renewable sources of...
Continue Learning about Relaxation Therapy