A simple formula is "We become one parent and we marry the other." Make a list of the qualities of your mother and those of your father. As far as temperment and personality are concerned, which parent are you most like? Mom? Then you will marry someone like dad's personality and temperment.

For example: suppose dad is controlling, critical, hard to get to know, hard working, not very warm or loving.
If those are the traits that you have, you have become dad!

Let's look at mom: she is soft, easily controlled, withdrawn, and sometimes you think she is a doormat.

That's what you will find in a mate.

If you had two great parents who loved each other and were respectful, kind, considerate, no major problems, then thank God. You should follow in their footsteps. But, you will still favor one parent and you will marry the other.

If you do not like the picture this paints, seek some counseling.
The answer is best thought of in terms of past, present and future. Past: Our own histories, our relationships with our parents/caregivers, the quality of their marriage (or lack thereof), genetics, culture all play a role in who we consider an acceptable mate. In addition, as our own life history ticks away, we learn about what works for us. We are likely to make very different choices about a mate when we are 20 than when we are 50. Present: We choose on the basis of what we need now - what we find attractive today, useful today, appealing today. That is a reasonable strategy, but what we value today, may not be what we value in 20 years. Future: We do try to choose mates that we want to share with, grow with, and grow old with. The problem is that we are somewhat limited by the legacy of our own baggage, and what we want today may not be what we want tomorrow.
Some psychologists believe that part of your choice among potential partners that fit your genetic programmed beauty choices is based on how your parents (guardians) treated you when you were under 5 (if you were abused, you choose someone who abuses you). The reason you do this: To help you work out the problems left over from your youth.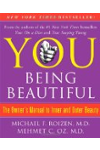 Continue Learning about Relationships and Family