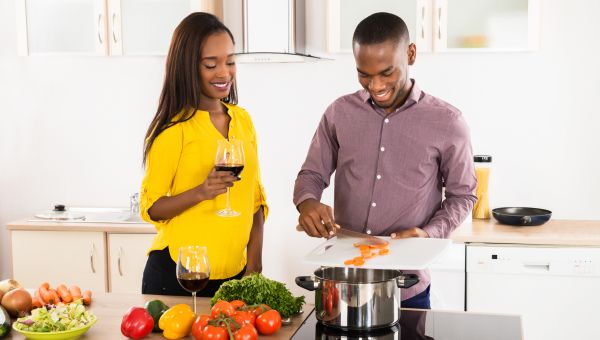 Grant Woods' American Gothic portrays an aging farm couple who look a lot alike, despite her bun and his overalls. If you and your spouse also look more alike now than you did as newlyweds, well, shared habits and experiences shape your expressions, wrinkles, and folds, creating similarities that weren't there when you were younger.
But superficial worry-lines aren't all that can develop as years go by. Research shows some couples become similarly UN-healthy: If one person in a couple is obese, there's a 37% chance the other will become obese too. And if your partner or spouse has type 2 diabetes, then you face a 26 percent increased risk of developing diabetes also.
Related: How to Create Healthy Habits Together
But what we noticed about these studies was that many more of you do not become obese or develop diabetes when your partner does. And we're interested in supporting YOU to become "The Influencer" in your house by making better health fun—even seductive.
Make a walking date: Take a daily stroll for 10 days running (it'll set the habit). Then get his and hers pedometers; set goals for the next four months, heading for 10,000 steps a day.
Together, start your own cooking show: How about Chopped meets Your Kitchen Makeover? Here's what to chop -- get rid of foods with added sugar or syrup and trans fats, any grain not 100% whole grain, and red meat. Your kitchen makeover -- a week's menu featuring ingredients and dishes you've never tried before.
Remember -- share hugs and laughter! Focus on the make-you-younger RealAge benefits of a livelier sexual relationship, and the healthier life you want for both of you!
Medically reviewed in January 2020.