Of course not! A secure functioning relationship means that partners are fully themselves, otherwise, what's the point of the relationship? Partners are supposed to take each other "as they are" and not as they wish them to be. The next step is to learn how to properly handle each other as uniquely different people, each difficult in their own way. More About this Book
Wired for Dating: How Understanding Neurobiology and Attachment Style Can Help You Find Your Ideal Mate
In the age of online dating, finding a real connection can seem more daunting than ever! So, why not stack the odds of finding the right person in your favor? This book offers simple, proven-effective principles drawn from neuroscience and attachment theory to help you find the perfect mate.Everybody wants someone to love and spend time with, and searching for your ideal partner is a natural and healthy human tendency. Just about everyone dates at some point in their lives, yet few really understand what they're doing or how to get the best results. In Wired for Dating, psychologist and relationship expert Stan Tatkin—author of Wired for Love—offers powerful tips based in neuroscience and attachment theory to help you find a compatible mate and go on to create a fabulous relationship.Using real-life scenarios, you'll learn key concepts about how people become attracted to potential partners, move toward or away from commitment, and the important role the brain and nervous system play in this process. Each chapter explores the scientific concepts of attachment theory, arousal regulation, and neuroscience. And with a little practice, you'll learn to apply these exercises and practical techniques to your dating life.If you're ready to get serious (or not!) about dating, meet your match, and have more fun, this book will be your guide.
Although it is worth working incredibly hard to support love and keep it alive, it is not worth sacrificing your integrity to do so. This is especially true when the love is gone and irretrievable. Many relationships are what I call "lowest common denominator" relationships. To avoid the risk of offending or hurting the other person or losing their love, many of us continuously abandon parts of who we are including ideas, feelings, and aspirations that are important to us. In time we begin to resent the other person for this, as well as getting angry at ourselves for allowing this to happen. This two-sided blame can keep us from feeling our natural state of love toward the other person and both sides may eventually find themselves devoid of passion.
What if both people simply accepted, supported, and unconditionally loved the other person as they are and desire to be, even if they do not always like or agree with what they do or think? From that place, if there is a critical difference, they could then decide whether they could be in that relationship with that person as they are, or have an open and honest discussion to see if there is a way that fully works for and feels good to both people.
What if you also unconditionally loved and accepted yourself for who you are, even if you have characteristics and desires that you were trained (i.e., brainwashed) to think are not okay? What if whoever we are and whoever the other person is was totally okay? Even if who they are is not the same as who we are. What if it is okay and love-sustaining if both of you grow and change? Interestingly, it is when you fully accept yourself that you will find it easiest to fully accept the other person exactly as they are.
Many of you have found that your marriage ceased to work when you decided to grow and change. If you are not true to yourself and do not change when you are ready (usually out of fear of rejection or losing the other person) you will resent either them, yourself, or likely both. Doing this repeatedly will usually result in the relationship being over, whether or not you stay together. At least if you are true to yourself, and grow into who you are, the other person can decide to accept you or not. In that situation, you can decide whether or not to stay together for healthy reasons.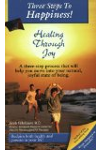 More About this Book
Three Steps to Happiness! Healing Through Joy
Happiness is our natural state of being. It is who we are. This happiness is obvious when you look at little children before they take on society's beliefs. Their natural state is to feel all of...
Continue Learning about Relationship Challenges