Your child may have trouble dealing with your divorce. Here are some ways you can help your child:
Stay involved with your child, whether or not you live close by. Make regular phone calls, write letters, or e-mail your child. Asking questions and being interested helps your child feel valued and loved.
Avoid fighting with your former spouse. If you think of yourselves as a parenting team instead of a couple, it may help you work calmly and in the best interests of your child.
Don't make your child feel guilty for the time spent with the other spouse. It's important that your child feels free to be close with both Mom and Dad.
Avoid making your child the messenger. If you have something to say to your former spouse, communicate it with him or her directly.
Remember the saying, "If you don't have something nice to say, don't say anything at all." Never speak ill of your ex-spouse in front of your child or try to make your child take sides.
From
Good Kids, Bad Habits: The RealAge Guide to Raising Healthy Children
by Jennifer Trachtenberg.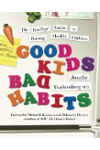 Continue Learning about Relationship Challenges