We all come from somewhere. That somewhere establishes many things about us, including how we relate to others. Some family cultures put relationships first. People who come from that kind of culture tend to guard their relationships above all other things. They put more emphasis on their relationships than on performance or appearance or independence. They also tend to be more fair, more just, and more sensitive than people from families who value other things over relationship. As human beings, we know best what we have experienced, and so what we have experienced is what we take with us into our adult relationships. If our earliest relationships were unfair, unjust, or insensitive, we will conduct ourselves similarly in our love relationships.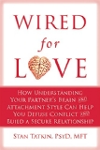 More About this Book
Wired for Love: How Understanding Your Partner's Brain and Attachment Style Can Help You Defuse Conflict and Build a Secure Relationship
"What the heck is my partner thinking?" is a common refrain in romantic relationships, and with good reason. Every person is wired for love differently, with different habits, needs, and reactions to conflict. The good news is that most people's minds work in predictable ways and respond well to security, attachment, and rituals, making it possible to actually neurologically prime the brain for greater love and fewer conflicts. Wired for Love is a complete insider's guide to understanding your partner's brain and enjoying a romantic relationship built on love and trust. Synthesizing research findings on how and why love lasts drawn from neuroscience, attachment theory, and emotion regulation, this book presents ten guiding principles that can improve any relationship. Strengthen your relationship by: Creating and maintaining a safe "couple bubble" Using morning and evening rituals to stay connected Learning to fight so that nobody loses Becoming the expert on what makes your partner feel loved By learning to use simple gestures and words, readers can learn to put out emotional fires and help their partners feel more safe and secure. The no-fault view of conflict in this book encourages readers to move past a "warring brain" mentality and toward a more cooperative "loving brain" understanding of the relationship. This book is essential reading for couples and others interested in understanding the complex dynamics at work behind love and trust in intimate relationships. While there's no doubt that love is an inexact science, if you can discover how you and your partner are wired differently, you can overcome your differences to create a lasting intimate connection.
We often look to the past to understand the nature of our present. There is perhaps no better example of this being the case than when we consider how our family life as children affects our relationships as adults. Often, those who are in quite a lot of pain will even blame their upbringing as being the cause of that pain. But why should something that happened so long ago seem so significant now?
Ayurvedic tradition teaches us that each of us comes into the world with a basic constitutional nature that is unique from the constitution of all others. The tradition assigns the various elements we find in nature (earth, fire, water, air, ether) to ourselves. Those with a lot of earth and water energy are going to have a fundamentally different nature than those with a lot of air and ether energy. And, specific to this question, those who are born into a home with a certain kind of energy are going to have a certain kind of response to it. If our parents have a lot of fire energy, they will be driven, focused, and even irritable people. If we, in contrast, have a lot of earth energy, we will be slower moving and more reflective. This could lead our parents to see us as lazy, inert, or lacking focus. If, on the other hand, both we and our parents have a lot of fire energy, then that fire could be set ablaze in a series of impassioned, heated arguments.
What all of this means is that the nature of how we relate to our childhood family relationships plants a seed for how we are going to consider our own nature. If we were taken to task for being too lazy as a result of our earth energy, then our obstacle is to see the balanced, nurturing side of that energy type as being an asset instead of a liability. It is to see ourselves for what we are rather than try to force ourselves to be more fiery or another elemental type. When we see our childhood family relationships as simply being the product of everyone's individual nature, we can let go of past drama and fulfill our purpose in the present.
When we're children, our brains are like video cameras. The love patterns we experience between and from our parents create our own love patterns that literally become neurochemical patterns in our brains. What love we witness and receive as children is the kind of love we learn to accept as the kind of love we deserve.

Parents are the most powerful influence on their children and deliver the most significant amount of in-put relating to how a child learns to conduct themselves in relationships. This starts from the time of conception and continues well into young adulthood. From the time a child is conceived, non-verbal communication between mother and fetus is taking place on many levels - hormonally, emotionally, chemically (her internal body chemistry), physically (the touching, sound and stimulation to the fetus) and even spiritually (the values the parents feel and think and communicate unconsciously, verbally and even non-verbally). It has been reported that 93% of all communication is non-verbal and the interpretation of this non-verbal communication is often stronger than the verbal cues that are provided to children. Some of the most influential studies to claim high importance for the nonverbal component of communication were carried out by Albert Mehrabian (Mehrabian, 1972).

Internal Family Systems therapy, developed by Dick Schwartz, PhD, illuminates the long term effect of the familial environment and how this environment impacts us on all conscious and unconscious levels, non-verbal and verbal levels. His work with discrete sub-personalities or parts focuses on how we adapt psychologically as a result of our family unit dynamics and communication.

All forms of communication, especially non-verbal are important in the formation of a child's psyche and that is something that every parent may wish to become more familiar with so they may facilitate their child's development in the most healthy way possible. In some ways it's habit - Freud termed it the "repetition compulsion". Basically - think of water streaming down a face of rock - over time, it makes indentations in the rocks and then it can only go down those little cracks. Our childhood relationships do something similar - we find ourselves going down the same old paths, paths set on the basis of years of relating. Childhood relationships set the tone for what we expect from the world, our schemas around attachment, abandonment, and connection (look at the work of the object relations theorists, as well as the work on attachment conducted by people like Ainsworth and Bowlby). While we can definitely make some significant changes in how we relate to the world despite what happened during childhood - at times of vulnerability or emotional intensity, we have a propensity to go back to "old patterns" of relating - basically what we learned as children. And that may be why the old song goes "I want a gal, just like the gal, that married dear old dad...." Or not.
An interesting fact is that everything you ever experienced is stored in your unconscious memory. Therefore, the relationships that were modeled for you by the adults in your childhood will be replicated by you as an adult. Yes, even if those were dysfunctional relationships.

The most significant stored memories are of momentous emotional experiences you have had, especially with members of your immediate family. That bank of memories is a permanent part of your unconscious self. By definition of the word "unconcious" these memories are not readily available to you from your conscious, thinking mind.

That is why relationship counseling can help. Through the counseling process you can become aware of the dysfunctional and self destructive behaviors your unconscious self is causing in your relationships.
Continue Learning about Relationship Challenges