Fatigue is a common side effect of radiation, and may not be noticeable until a few weeks after therapy begins. Your partner also may experience skin irritation causing redness. Another common side effect of abdominal and/or pelvic radiation is diarrhea, which is often relieved by over-the-counter anti-diarrheal medication. Patients may experience bladder irritation, which causes discomfort and the urge to urinate frequently. Female patients receiving pelvic radiation may experience vaginal stenosis, or the narrowing of the vagina caused by scar tissue. This can make intercourse painful for the female patient.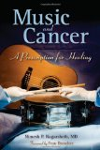 More About this Book
Music And Cancer: A Prescription For Healing
From diagnosis to end-of-life care to the meaning behind life with cancer, Music and Cancer: A Prescription for Healing is designed to improve the quality of life of people affected by cancer in a...
Continue Learning about Radiation Therapy For Cancer