The earlier you begin talking to your kids about the risks of tobacco use, the more likely it will be that they won't ever use it. Kids who don't begin smoking before age 18 are likely to never begin. You can begin talking to your kids about smoking as early as age 5 or 6, and the dialogue should continue through high school. If you reinforce the message from an early age, hopefully your child will be able to resist the pressure to smoke from his or her peers. Many kids begin smoking earlier than you might think: in the middle school years, around age 11, and a great number are addicted by age 14. Tobacco use is the biggest preventable cause of death in the United States, and can lead to heart disease, cancer, and stroke.
If you are a smoker yourself, the best thing you can do for your children's health is to quit. Easier said than done, I know, but at the very least, avoid using tobacco around your children and don't leave cigarettes within their reach. You can use your experience to talk to your kids about how hard it is to quit once you become addicted, and how it's best not to begin smoking in the first place.
From Good Kids, Bad Habits: The RealAge Guide to Raising Healthy Children by Jennifer Trachtenberg.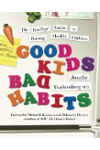 Continue Learning about Quit Smoking