It's okay to be brutally honest -- cigarettes make people sick and many people die because of them. Perhaps you know someone who has died from a smoking-related illness: You should let your kids know the truth about the devastating effects of a lifetime of smoking.
You can also role play how your children could say "no" to someone who is pressuring them to smoke, and be sure your kids know that no matter what they might see in movies or on television, smoking isn't cool.
Besides addiction and disease, these short-term effects of tobacco may help turn your kids off to smoking:
Smoking hurts your lungs and makes it harder to breathe, especially during sports.
Smokers can't run as fast or as far as nonsmokers.
Cigarette smoke makes your hair and clothes stink.
Tobacco causes yellow stains on your teeth and bad breath.
Spit tobacco can cause your mouth to bleed, sores in the mouth, and cracked lips. Money spent on cigarettes can be put to much better use.
From Good Kids, Bad Habits: The RealAge Guide to Raising Healthy Children by Jennifer Trachtenberg.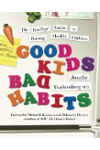 Continue Learning about Quit Smoking