We're a society that doesn't like quitters—not in sports, not in school, not in buffalo wing eating contests. So it's against our human nature to give up something that we've started—even cigarettes.
One of the toughest parts about quitting smoking is that they're both physiologically addictive and psychologically addictive.
From the physiological end, it seems that dopamine—a naturally occurring substance in your body that dulls pain and causes pleasure—is actually triggered when you're smoking. When you smoke, you get used to the elevated dopamine levels, so when you don't smoke, you crave the cigarette with no explanation as to why, almost like the way a pregnant woman craves chocolate-chip relish. Luckily, those dopamine levels don't stay elevated all the time, and if you can quit, you can switch your chemicals back to normal levels.
Psychologically, smoking becomes a behavioral addiction—you have a cigarette with a beer, after dinner, after sex. And you get used to the feeling of picking something up and putting it in your mouth.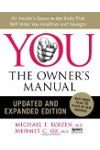 Continue Learning about Quit Smoking