Quitting smoking at any age can reverse the harmful effects of smoking. However, the earlier one stops, the greater the benefit.
Quitting smoking may have particular benefits for women during and after the menopause transition. Smoking increases hot flashes and mood disturbances during menopause and may decrease the benefits of hormone treatment. Smoking also raises your risk of developing postmenopausal health problems, including heart disease, osteoporosis, hip fractures, and difficulties with bone and muscle healing. As you age, you are more likely to require, or elect to undergo, surgery. Quitting smoking prior to surgery is especially important because smoking increases surgical complications and slows wound healing. Smoking also has a negative effect on your quality of life, causing you to feel tired, weak, and out of breath, and reducing your strength, balance, and agility. Smoking increases facial wrinkles, causes skin to be dry and gray, and speeds up hair greying.
Despite the proven benefits of quitting, women who stop smoking around the time of menopause may find it especially challenging. They may face nicotine withdrawal symptoms such as depressed mood while coping with hot flashes or other signs of menopause. They may gain more weight than women who continue to smoke; however, exercise and a healthy diet will help keep weight gain to a minimum.
All women who smoke can quit, even those who have smoked for many years and those who have previously quit and started again. While nearly three out of every four smokers want to quit, it usually takes several attempts to be successful. Try not to be discouraged by temporary relapses. Focus on the health benefits and the ways in which being a non-smoker will increase your quality of life in order to help you quit and maintain your success.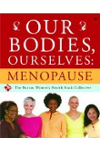 More About this Book
Our Bodies, Ourselves: Menopause
FROM THE EDITORS OF THE CLASSIC "BIBLE OF WOMEN'S HEALTH," A TRUSTWORTHY, UP-TO-DATE GUIDE TO HELP EVERY WOMAN NAVIGATE THE MENOPAUSE TRANSITION For decades, millions of women have relied on Our...
Continue Learning about Quit Smoking