Smoking one pack of cigarettes a day makes you over 8 years older than the nonsmoker. Cessation of smoking can make you 1 year younger in 2 months, and 7 years younger in 5 years. If you quit, you can regain 7 of the 8 years you lost from smoking.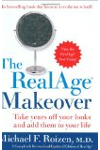 Continue Learning about Quit Smoking

Smoking tobacco products can lead to severe health problems and even death. While quitting smoking can be very difficult for some smokers, there are smoking cessation programs and medications that can help smokers quit. There are ...
many lifelong benefits of doing so, like increased lung function and decreased risk of heart disease and cancer. Understanding the importance of quitting smoking and all options available to help stop smoking is key to long-term success.
More