Psychotherapy enhances the impact of medication in people living with bipolar disorder and reduces relapse and hospitalization. It's now unquestionably a viable form of appropriate treatment for bipolar illness.

The National Institute of Mental Health states that a combination of medication and psychosocial treatment (which explores how your social environment influences your thoughts and behaviors) is the optimal treatment for managing bipolar disorder in the long term. A review of treatment outcome studies concluded that, in conjunction with medication, psychotherapy reduces the overall rates of relapse but is more effective for reducing episodes of depression than episodes of mania.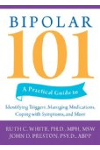 While medication remains the cornerstone of treatment for bipolar disorder, it's widely reconized now that psychotherapy is also an important part of treatment for this illness. Bipolar disorder is in part a biological illness, which is why medications are almost always necessary; but the environment, as well as how a person thinks about and interprets things, also plays a big role in bipolar episodes.
There are some treatments that have been proven effective in the treatment of bipolar disorder: cognitive behavior therapy (CBT) and interpersonal social rhythm therapy (IPSRT) are two of these.
The basic premise of CBT is that our emotions, thoughts, and behaviors are all inter-connected; and that therefore, if we can change one of these, we'll have an impact on the other two. For example, if we can change the way we think about a situation, we'll be able to change our feelings about and behaviors in that situation.
IPSRT focuses on helping clients understand how disruptions to their routines, as well as the quality of their relationships (and their social roles, such as a parent or spouse) can influence their moods.
Unfortunately, even these treatments which have been well-researched aren't "the answer" when it comes to bipolar disorder, so we continue to look for other treatment options and to consider how we can make psychotherapy more effective in helping people prevent bipolar episodes.
Recently, I have been doing some research on a newer therapy developed in the 1980's by psychologist Marsha Linehan, called Dialectical Behavior Therapy (DBT). This therapy is based on the same underlying premise as CBT, but also focuses on helping people live their lives more in the present moment, and with acceptance. In my research, DBT has helped people with bipolar disorder to reduce symptoms of depression, improve their self-awareness, and reduce their fear of their emotions.
At present, neither medication nor psychotherapy can "cure" bipolar disorder; but if we keep working at it, hopefully we'll at least be able to help people stay well longer and live healthier lives in spite of their illness.
Continue Learning about Psychotherapy To Treat Mental Illness