In anyone who's overweight—whether by a little or a lot—we can see the relationship between why we eat and how much we eat. The issues aren't at waistband level; they're at brain level. You may know you have health problems and a waist circumference the size of Neptune. And you may even know that you struggle with the emotional issues of confidence and esteem that come as the side orders on the entrée of obesity.

But you may not know that you could be the type of person that's termed an avoider, in that you internally suffer from a tornado of psychological turmoil that comes with the public and private disdain for obesity and you avoid confronting your situation at all because of the internal fear of trying to beat it.

Here's how avoiders think (nod if this sounds familiar): Once you deviate—even slightly—from a diet or healthy eating plan, you figure you might as well drop the whole thing. (Nodding?) And that starts a cycle that avoiders can't find a way out of: We're fat, we try to lose weight, we deviate just a little, we fear rejection for the perceived failure, we isolate ourselves from people, we stop talking about it, we stop the diet, we lawnmower through a pound of cheesecake, we get fat. And then we try to lose weight and the cycle continues.

Avoiders of all levels (from the extreme cases to the more mild ones) will see their weight bop up and down like a bull rider. Physiologically, it's a never-ending cycle of weight gain and loss (that's called weight cycling).

But the real avoider issues stem from the psychological effects of weight cycling. Instead of avoiding bad foods, the avoider tends to want to avoid other things—like the people who want to help them and the discipline of trying to eat healthfully. Above all, avoiders try to separate themselves from these two strong emotions associated with "dieting:" guilt and shame.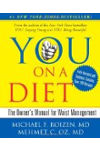 Continue Learning about Psychology of Weight Loss