Throughout our lives, we've been conditioned to believe that if one thing is good for us, then more of it must be better. If you eliminate 100 calories from your daily diet, then eliminating 400 must qualify you for the petites department. If you walk to lose weight, then running a marathon must microwave your fat. Well, neither is true. Worse, not only aren't they true, but many of the diet myths perpetuated today actually hurt our bodies. (Food deprivation, for example, drops your metabolism and makes your body want to store fat, for example.)

Many of the rules, ideas, and principles you may believe about dieting—that you assume work when dieting—simply aren't true and can very well contribute to weight issues, because they keep the vicious cycle of fat loss and fat gain revolving faster than Lance Armstrong's front wheel.

In a way, we live on the two extremes of a pendulum. Either we swing all the way in one direction (strict, tedious dieting with a draconian low daily calorie intake), or we swing all the way in the other direction (popping cream-cheese-smothered bagels like they're grapes). We have to stop swinging so much and start living in the middle of that pendulum by striking a balance and avoiding the periods of extreme "ons" and "offs."

One of the reasons why most so-called diets fail is because of a psychological and behavioral flaw that many dieters have. We desperately want to believe the simple, comforting promises they make—that doing A always gets us B. Because once we see that A (eating wheat germ 24-7) doesn't always equal B (the cover of Vogue), then we get frustrated, angry, and give in to the gods of cream-filled baked goods.

Unfortunately, your body and your fat do not have a linear, two-step relationship. Instead, think of your body as an orchestra. All of its systems, organs, muscles, cells, fluids, hormones, and chemicals play different instruments, make different sounds (your intestines have dibs on first-chair tuba), and produce different results depending on how you use them. They work independently, but only when they're played together can you appreciate the magnificent symphony of your own biology. As the conductor of your biological orchestra, you control how the instruments interact and what the final result will be.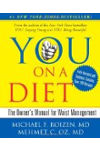 Continue Learning about Psychology of Weight Loss