You can change your fundamental relationship to food by changing how you habitually think about it. If you don't do that, you might as well hang it up right now. No diet, no matter how vigilant you are, is going to work long term without that component.
Relax. I'm not asking you to go on yet another diet. Instead, I'm encouraging you to:
Permanently change your diet and
Change your relationship to food.
Let's take these one at a time. Changing your diet means changing what you're eating habitually so that most of your calories come from healthy, nutritious, whole foods, and eating those foods in reasonable portions.
The second component is changing your relationship to food. Bad eating habits in part stem from the way you've been thinking about food. Hence, the diet I advocate is a "thought diet," questioning and debunking the fantasies that have been mediating between you and food.
To recap, neither component can work without the other. Merely changing the foods you eat and your portion sizes isn't enough. Neither is changing your relationship to food if you're still getting the bulk of your calories from junk and eating unreasonably large portions. A bird needs both of its wings to fly, and healing your food issues requires both components to be complete and lasting -- a shift in your diet and a change in your relationship with food.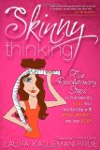 Continue Learning about Psychology of Weight Loss