The Wise Witness is our true self, the one who naturally knows what to eat to keep us healthy. It's who we are when we're not listening to and believing in the ego. It's that inner place of calm and serenity that we've all visited in moments when the mind is quiet. Think back to a time when you've felt completely at peace. That delicious feeling is the true self. Even though we may not be aware of this consciously, each of us taps into it every day!

We can see the true self clearly in the innocence and openness in babies and animals. They're the true self embodied. I'm not suggesting returning to the pre-egoic state but, rather, that if we want to experience life from a delightful place of openness, wonder, and curiosity, we have to relearn how to connect with the true self, shedding what no longer serves us so that our natural state of radiant happiness shines through.

Connecting with the Wise Witness means entering the thought free state beyond identification with our minds and bodies. Although meditation is the most common way to move out of the mind, we can do this anywhere, anytime, as long as we're not caught up in thoughts or feelings. We can notice the clock on the wall, a leaf floating in the breeze, or our hand as we turn the page.

When you are in the ego-based state of consciousness, thoughts and feelings come between you and direct experience. For example, you're in the true self, in a moment of awe, when you see a beautiful sunset -- and when thought comes in, saying, "Oh, what a beautiful sunset," you're back in the ego. Information we receive from the senses, before thought comes in, takes us to the true self. If we are to break the habit of paying attention to and following our thinking, which is responsible for our food issues, it helps to cultivate a new habit of diving into the space between our thoughts. To do that, try to spend at least 10 to 15 minutes every day sitting quietly, either in silence or while listening to restful music.

There are two ways to approach eating: from the Child's (pleasure-seeking impulses) point of view (our conditioning, which is part of the ego) or from the true self's point of view. Whenever we're eating to fill a psychological need rather than a physical need, we're identifying with our conditioning. The true self, on the other hand, encourages actions that support the optimal functioning of the body, so it's unlikely that the true self will move us to overeat when we've had enough.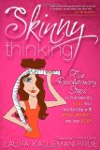 Continue Learning about Psychology of Weight Loss