When you're under extreme acute stress—the immediate kind (such as a car accident) that triggers a fight-or-flight response, your body produces norepinephrine to speed your heart rate, breathing, and 100-yard dash time to escape a saber tooth tiger.

When that happens, the last thing you're thinking about is grilling up some tubers on the campfire, so your hunger levels are squashed. That's because your body inhibits the peptide NPY (which decreases metabolism and increases appetite) during periods of acute stress (it's why exercise cuts appetite, because your body senses you're in acute stress). So high levels of acute stress work in favor of your waist: it takes away your appetite and speeds up your metabolism.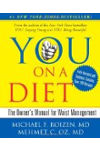 Continue Learning about Psychology of Weight Loss

There are good days and bad days on the journey to a healthy weight, and your state of mind has a great deal to do with how you weather the weight loss storm. Be kind to yourself through the inevitable struggles and employ positiv...
ve self-talk to help you get up and get moving. Also, make awareness a priority, not just of the fat and calorie content of the food you're eating but also when and how much you eat. Make the cycle a positive one and remember, "success fuels motivation; motivation fuels success."
More