Because they set us up to fail - diets don't work. They are based on unrealistic expectations, unnatural approaches to eating, and lack of recognition of the needs of the individual person. Any time we enter a cycle of attempting something and then failing - which characterizes most yo-yo dieting and repetitive attempts and the latest "quick fix" - it can erode at our sense of self, and make us feel like we don't have "what it takes" to "be healthy". Diets are consistently a predictor of disordered eating, including bulimia nervosa, anorexia nervosa and binge eating disorder - and patients with these disorders also often describe feelings of guilt and shame. People turn to diets to address vulnerable issues such as body image, sexuality and happiness - the answers to those issues does not sit in a diet - and often require deeper psychological work.
No matter what kind of diet you may have tried in the past, you've undoubtedly worked with a list of off-limits foods. High-protein diets might ban potatoes. Low-fat diets might ban cheese. Sugar-busting diets may ban you from ever setting foot in Aunt Thelma's kitchen again. Inevitably, like a child instructed not to touch the champagne flutes, you will want potatoes, cheese, and Aunt Thelma's snickerdoodles. So you cave.

But because you've set yourself up with a list of banned foods, you perceive five French fries, or a hunk of gouda, or a bite of snickerdoodle as first-degree diet homicide: The diet's dead. And that's where guilt sets in—from the fact that you know you deviated from a pre-determined set of standards. (This holds true for all levels of people who fit the psychological description of avoiders, who often struggle with obesity.)

We all identify with nutrition-induced guilt, and then we make a subconscious decision that it's easier to deal with the effects of being overweight than it is to feel the boulder-heavy guilt every time we want to smother a carrot in bleu cheese.

For the person who feels she cheated on that diet—whether it was a late-night flirtation with a Kit Kat or an adulterous romp with a vat of cake batter—there's an even worse feeling than guilt. And that's the shame associated with dietary infidelity.

You've cheated, so you now feel you lack the strength to succeed. So what are you going to tell your spouse and all your co-workers who've been watching you feast on iceberg lettuce at lunch for the past 8 days? That, yes, you're a failure? You could only last on your diet for a week? You have one little thing you're doing, and by gosh, you can't even keep a stinking cheese doodle out of your mouth?

The public humiliation—or just the perceived threat of possible embarrassment—primarily stems from that societal disdain for obesity. But this shame—a much more profound emotion than the guilt—spins you back into this cycle of avoidance: It's better to not be on a diet and be fat, the avoider calculates, than it is to be on a diet and eventually prove to the world that you can't succeed.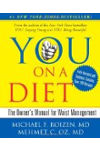 Continue Learning about Psychology of Weight Loss