The split second you feel stressed, anxious, deeply worried, scared, or simply concerned that you can't pay a bill, the hypothalamus (a region of the brain, the seat of our emotions) secretes corticotropin-releasing hormone (CRH, a stress coordinator) to start a domino effect ending in cortisol rushing into your bloodstream.

Cortisol is the body's chief stress hormone that also controls how your body processes carbs, fats, and proteins, and helps it to reduce inflammation. Because it's the hormone responsible for protecting you, its actions increase your appetite, tell your body to stock up on more fat, and break down materials that can be used for quick forms of energy, including muscle. Not all that you'd like to happen, but when your body senses stress (even when you know it's not the kind that will physically kill you in ten seconds or less), it thinks you won't see food again for a while -- or it may need an ample supply of fuel to camp out on during a famine or use to make a mad dash. In other words, cortisol causes tissues to break down, including muscle, skin, and collagen, while at the same time assembling fat.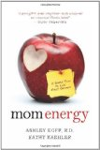 More About this Book
Mom Energy: A Simple Plan to Live Fully Charged
       From celebrated dietitian Ashley Koff and fitness trainer to the stars Kathy Kaehler comes Mom Energy, an exciting new way for moms to tap into their own natural and renewable sources of...
When cortisol levels remain high, this causes abdominal fat to accumulate—evidenced by an increased waistline and the "apple" body shape. We're now learning that people who have apple body shapes have an increased risk of diabetes, cardiovascular disease, and pro-inflammatory markers. Some findings indicate that the relationship between waistline size (called central fat) and inflammation may be more significant than the connection between total obesity and inflammation.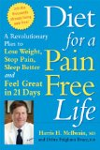 Continue Learning about Psychology of Weight Loss